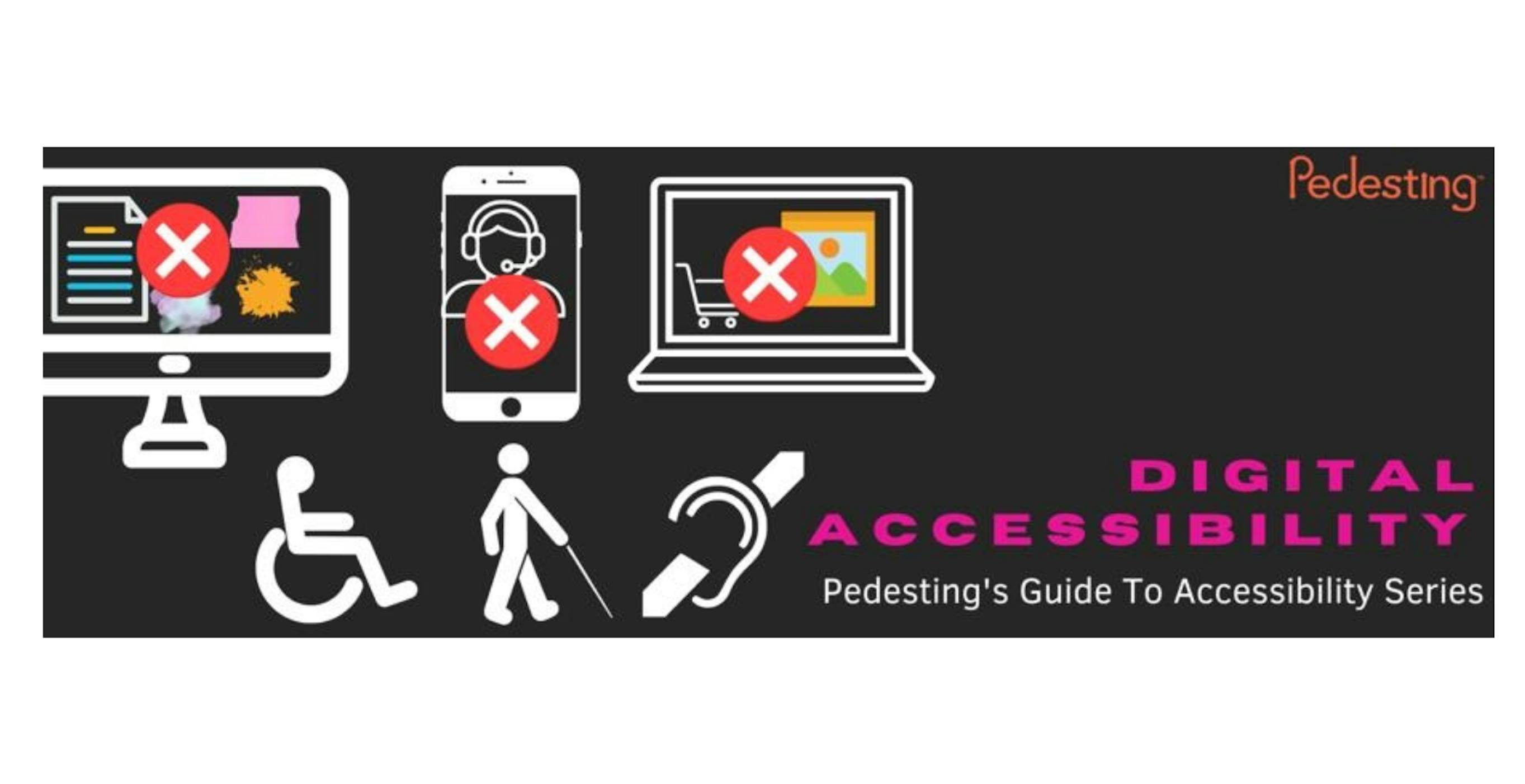 What Is Digital Accessibility? A Quick Guide
What is Digital Accessibility/ Web Content Accessibility?
In simple terms, digital accessibility or web content accessibility refers to being able to navigate technology without any barriers to access. 
As Wikipedia puts it, "it is the inclusive practice of ensuring there are no barriers that prevent interaction with, or access to, websites on the World Wide Web by people with physical disabilities, situational disabilities, and socio-economic restrictions on bandwidth and speed."
What are the Accessibility Barriers?
Accessibility barriers differ for different disabilities.
People with visual impairments may need a voice assistant to access a page.  People with hearing impairments may require a detailed description of the visual content. People with mobility challenges may find it difficult to access the keyboard/mouse especially with multiple clicks and scrolls. Thus, every disability has a different difficulty barrier. 
Where to Start for Understanding Web Content Accessibility?
According to Statistics Canada, one of the main reasons for people with disabilities for not using technology is that they are not accessible to use. 
In a US study conducted by Pew Research Center, 23% percent of disabled respondents say they "never" go online. Websites with accessibility barriers miss out on a major potential group of people. So, where do we start?
While many countries have been implementing their own Information & Communication Technology (ICT) laws, Web Content Accessibility Guidelines (WCAG) by World Wide Web Consortium has been largely used by companies to practice digital accessibility. 
Web Content Accessibility Guidelines (WCAG) describes how to make websites and web content accessible. There are two versions of WCAG with version 2.1 being the latest. It is built on the 4 principles- perceivable, operable, understandable, and robust with testing criteria for each. Companies and organisations can read through the guidelines for better understanding and implementation.
Implementing Digital Accessibility in The Workplace: Why, How and the Challenges.
United Nations Convention on the Rights of Persons with Disabilities (UNCRPD) and its optional protocol states that, promote, protect, and ensure the full and equal enjoyment of all human rights and fundamental freedoms by all persons with disabilities, and to promote respect for their inherent dignity. It also allows people who have disabilities to make human rights complaints directly to the United Nations Committee, if they've exhausted all legal options within Canada.
It is the need of the hour that companies must try towards achieving digital accessibility. Before we discuss about how to implement it, lets see some of the challenges, an organisation might face when implementing it.
Challenges:
A research study (1) on web accessibility challenges highlights the following challenges when it comes to implementing web content accessibility.
·       Lack of accessibility awareness when designing and implementing websites.
·       Allocation of limited resources and scarcity of specialised professionals in the field.
·       Lack of efficiency and negligence in the evaluation process/testing towards web accessibility.
It is essential for any organisation to look through its policies, team, and resources as they create a strategic plan towards digital accessibility.
3 Simple Ways to Implement Digital Accessibility in The Workplace:
1.     Learn - Accessibility training: When organizations invest their rime and resources to learn and understand about the accessibility needs of their employees, it helps in creating a successful strategic plan for digital accessibility. Ensuring all the employees and the website designers take the training will yield larger benefits.
2.     Make your designs inclusive: It involves the entire organisation on the web, files, digital navigations, documents, and interactions. This benefits both your employees and your customers with disabilities. Data says that more than 2800 federal complaints were filed in US courts in 2021 alone against non accessible websites of companies. Making inclusive designs can come a long way in customer satisfaction and employee retention.
3.     Prioritize Usability Testing and Evaluate Digital Workplace Tools for Accessibility: This is a very crucial step towards digital accessibility. As Adobe puts it, creating accessibility personas can help UX designers identify specific needs and issues for people who are blind or have low-vision, deaf, low mobility or dexterity, or cognitive disabilities. It is also good to remember to make sure that employees with disabilities in organisations have the right digital tools to work with. 
Companies and Tools Leading the Digital Accessibility
Here is a list of resources that help in making digital accessibility a reality.
3.     Microsoft for accessibility
5.     Inclucity Calgary- A home grown brand that facilitates usability testing for accessibility. 
6.     https://www.makeuseof.com/canva-accessibility-features-to-use/
Pedesting For Digital Accessibility 
With very few days for the app to go live, Pedesting is working towards making its navigation more inclusive and accessible for people with different disabilities. Stay tuned for more updates. Meanwhile, you can still check our BETA app here.  As an organization, Pedesting will continue to make efforts to incorporate best practices and standards for digital accessibility.
Research Sources:
1.     Abu Addous, Hayfa & Zalisham, Mohd & Basir, Nurlida. (2016). Web Accessibility Challenges. International Journal of Advanced Computer Science and Applications. 7. 10.14569/IJACSA.2016.071023.