Scout's Honour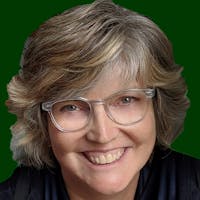 Guest Blogger, Joni Carroll
Joni Carroll is Calgary Arts Development's Arts Spaces Consultant, striving for abundant, appropriate, affordable, accessible arts spaces in Calgary through her work with arts organizations, space developers, policymakers, and other stakeholders. Calgary Arts Development is led by values of equity, diversity, and inclusion, and our continuing journey of reconciliation, based on the following three principles—one size fits one, nothing about us without us, and creating a virtuous (not vicious) cycle.
The Pedesting™ app gives every one of us the opportunity to plan our routes throughout our city with fore-knowledge, predictability and independence -- and I am thrilled about it.
Although I'm not currently experiencing a disability, I've been an 'accessibility scout' for a loved one with a mobility disability and I believe that Pedesting™ will essentially give everyone their very own scout. What do I mean? Because my brother uses an electric wheelchair, we typically have to scout out the route for him before he dares to head out on a new urban adventure. We look for missing curb cuts and ramps, too-short crossing signals, too-narrow doorways, and entrapping vestibules–and then report back on our findings. This new navigation app will help ensure that everyone in our communities can confidently find their way from outside to inside the important spaces that make up our neighbourhoods and city centre.
As the arts spaces consultant for Calgary Arts Development, I'm especially interested in how the Pedesting™ app can help us all make our way to arts spaces and events, especially now that our city is becoming a leading centre for Disability Arts. The arts can often lead the way in identifying inequities and accelerating societal change. In Calgary, there are many arts organizations that are working toward full and equitable inclusion of everyone in our diverse community, both as audience members and as artists in all aspects of training, creating, and performing/exhibiting. In addition to many instances of 'relaxed' theatre and music performances, Calgary is now home to innovative, inclusive Disability Arts festivals and organizations. Examples include SPARK Disability Art Festival and Indefinite Arts in the visual arts, and Stage Left Productions and Inside Out Theatre in the performing arts.
Supporting programs, spaces and products that in turn support the inclusion of the full breadth of people in our community is not just the right thing to do, experts say it makes good economic sense. There are about 1 billion people on our planet with some form of disability and, as our population in Canada ages, the ability for all citizens to fully participate in civic life will be good for all aspects of our economy.
Like many other innovations, the Pedesting™ app was developed to benefit people with disabilities and will of course benefit every single last one of us. Examples of this 'mainstreaming' abound in my own life: curb cuts made life easier for me when I was pushing a stroller; closed captioning helps me enjoy opera and foreign films (and frankly those brogue-filled Scottish mysteries I love); and text-to-voice and voice-recognition technology (Hey Siri!) are now so ingrained in my daily life that I'm astonished I survived without them. I can't wait to see the full breadth of benefits that Pedesting™ will deliver to all of us.