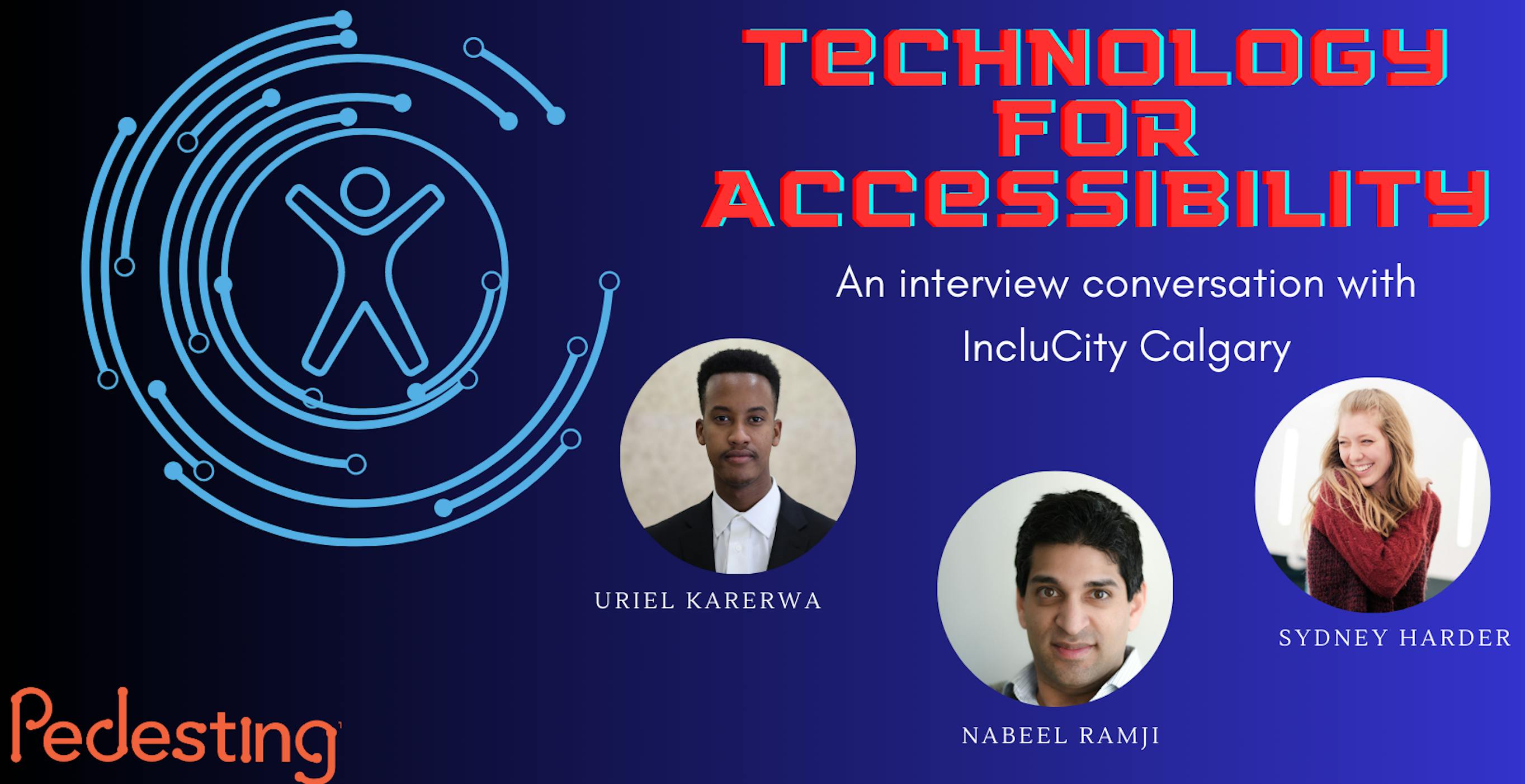 IncluCity & Pedesting: Exclusive Interview on Technology for Accessibility
In celebration of the National Accessibility Awareness Week 2023, Pedesting collaborated with IncluCity, a Calgary based organization working towards inclusive design through user testing. The interview-based conversation hosted by Nabeel Ramji, co-founder of Pedesting with the guests, Uriel Karerwa and Sydney Harder from IncluCity revolves around how technology can be made inclusive to ensure accessibility for everyone. This blog is a sum up of the conversation and highlights the insights from the full video below: 
What Is Inclusive Design and How IncluCity Contributes to it?
Inclusive design is an approach that seeks to include as many people as possible when you are designing/ creating a product. In often cases, one product/design cannot be equally accessible to all. So inclusive design focuses on designing a product/service that can be accessible by all by means of adding few things or adjusting the way according to how different users use a product/service. In a nutshell, it can be said as, putting humans in the center of the design. When creating any product/service, it is good to have these questions in mind:
·       Why you are creating what you are creating.
·       To whom you are creating this/ who would be your end users. 
IncluCity helps to build from the margin to ensure that individuals, business owners and technology teams who want to build inclusive design, get to do so through user testing. It takes the effort and time to connect with the end users to know and understand how designs can be made inclusive, what are the barriers people face when they try to access a product/service. It is more about building for people outside the room rather than for people in the room. 
It provides the tools to build inclusive design like user testing, mobility testing, recruiting people who represent the diverse spectrums of the community and providing insights in to the same.
User Testing: What to know. 
User Testing differs from client to client and field to field. Each test differs from one another and so are the processes. IncluCity works to find what are the challenges people face when using a product/service, where are the accessibility barriers and provide insights on how to make it better. The UX researchers help in understanding the problem through various tests and come up with insights to solve them and make it more user friendly and easily accessible for all. 
It includes tests conducted through surveys and research with people from the community to get data and insights about the accessibility and usage of a product or service. It is often misunderstood that to be a part of the User testing, you must be technically proficient. But it is not a requirement. IncluCity follows a whole set of procedures right from recruiting to delivering the result of testing. That includes things like no bias-based procedures, being inclusive and helping the community members to participate in the test. 
Does Organizations Face Any Challenges in Implementing an Inclusive Design?
Many organizations though wanting to create inclusive designs might often find themselves stuck because of these challenges:
·       Lack of information on where to start.
·       Lack of awareness
·       How to meaningfully interact with the community to get the data. 
·       Lack of access to connect with underrepresented communities.
·       Lack of resources/manpower to work on making their product/business accessible.
IncluCity has been working with organizations keeping these challenges in mind to help them work towards creating inclusive designs.
How Has The Journey Been for IncluCity So Far?
IncluCity started with working with non-profits, community-based organizations and then moved to the private sector slowly, exploring the tech sector and lately have started collaborating with the government. With the importance of inclusive design becoming more relevant and required, IncluCity has been working with many different individuals and organizations across field and sectors to provide tailored user testing solutions that helps to meet different accessibility requirements of different people.
How can Communities and Organization Contribute to Ensure Inclusive Design?
To begin with, it is always important to remember that humans should always be the center of design. There are lot of advocates for the same in Calgary. It is good to stay curious about who is your end user and how it would affect them. 
For ex: A wheelchair ramp is built to help anyone in the wheelchair navigate. At the same time, it also helps a mom with a stroller and groceries to navigate. So, staying curious helps in understanding the many benefits and can help in design better. Keeping our biases in check and constantly thinking about how we can do best.
Here are some of the fundamental principle's organizations can follow to be more inclusive by design:
·       Constant learning in the field like keeping up with the leading tech-based websites and utilizing free resources.  Learning more about how UX can be used towards inclusive design.
·       A great resource for UI/UX best practices is the Nielsen Norman Group (https://www.nngroup.com) 
·       Following the Web Content Accessibility Guidelines (WAG)
·       Ensuring the language is kept neutral so that everyone can understand it. The Calgary community is so diverse and there are so many different communities with different languages. Speaking and using a common language goes a long way in inclusive design.
·       One of the examples of inclusive design is making payment through cards in the tap machine. But for people with vision loss, there is no braille language in the machine. This is a huge barrier and an accessibility challenge for them. Thus, being aware of the barriers helps in creating better inclusive design.
What are the Economic Benefits of Investing in User Design?
To quote Sydney Harder from the interview, "for every dollar spent in user testing, 100 dollars become the return on investment. When the businesses/products are becoming more inclusive, it opens a very diverse and vast market for the organizations to tap on.  Thus, it brings so many opportunities for organizations and corporations to grow and expand."
IncluCity was supported by Calgary Foundation for a project. There are so many grants and funding available for organizations across sectors from government. Visiting the grants page helps in finding the right grant to invest in user testing. Calgary has more than 240 different communities from different countries with so many different languages. With the tech boom and the raising number of people with disabilities, organizations must be open to diversity and inclusive designs. 
What Happens after User Testing for Organizations with IncluCity?
IncluCity provides exclusive insights to the organizations from its user testing and outline steps to be taken and changes to be introduced to make their product/businesses better and more design inclusive. It also gently nudges the organizations to implement these changes and get it going. 
IncluCity believes in education. It ensures its customers have access and opportunities to learn, collaborate and work together in making inclusive designs that have a greater impact. 
Closing Notes
IncluCity has been working as a guide towards ensuring inclusive design for everyone in the city. Being open to the community needs and being open to the learning process and curiosity will help organizations to do better with inclusive designs. Investing in hiring a UX designer or a team is very beneficial in making a business inclusive and accessible.