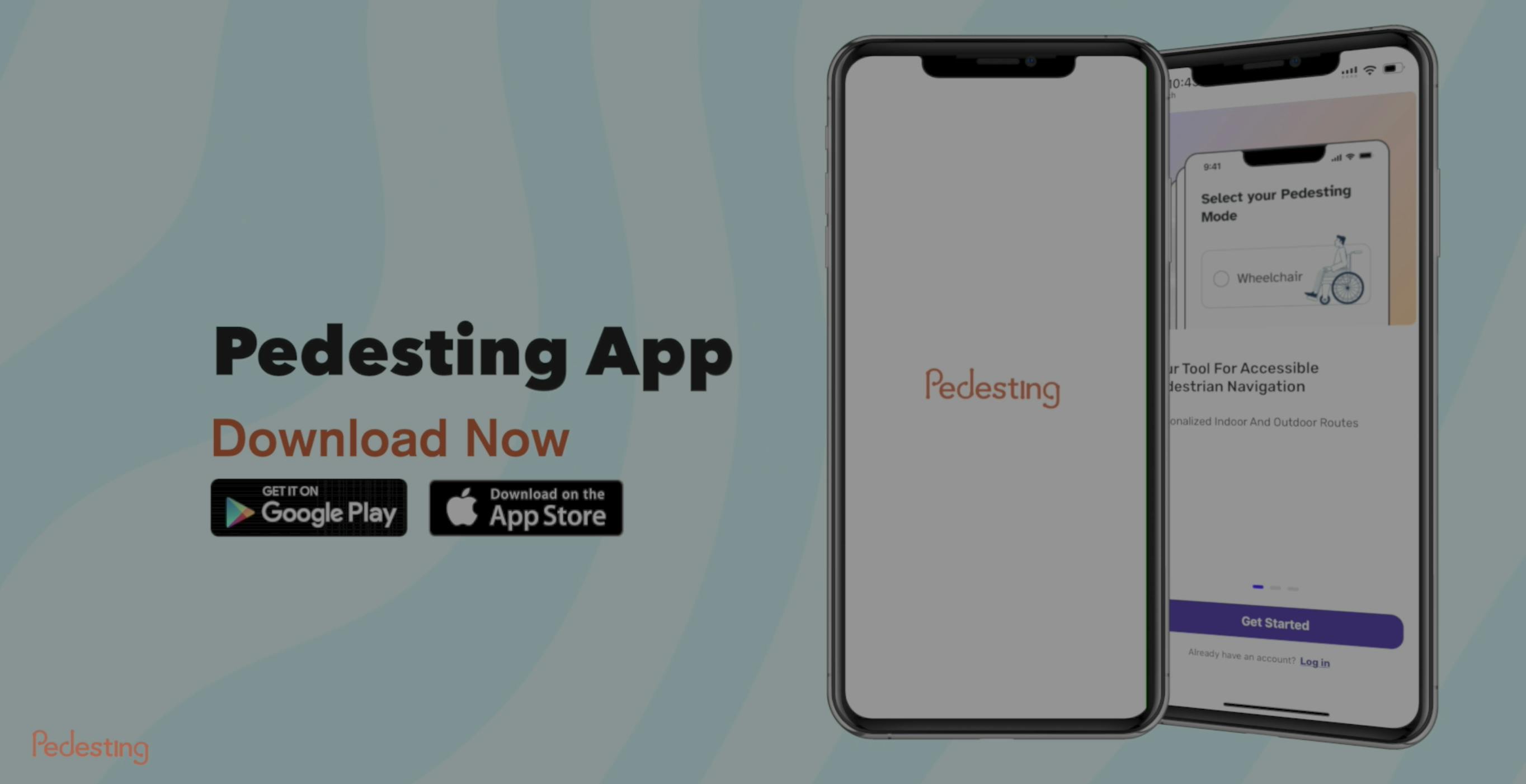 Calgary navigation app Pedesting launches on Apple and Android stores
CALGARY, Sept. 20, 2023 – Imagine you're making your way downtown for a meeting and you are navigating a sidewalk or pathway. You have allotted the perfect amount of time for your journey and you know exactly where to go. 
All of a sudden, you see an unexpected barrier in your path. Perhaps the sidewalk is closed for construction or there's a set of stairs that you cannot climb. You're forced to turn around and go back the way you came. 
For people who use sidewalks, pathways and other pedestrian spaces, it's common to come across barriers such as curbs, stairs, or other obstacles. For those who rely on mobility devices (such as wheelchairs, walkers, or even people pushing a stroller) a barrier can mean the difference between completing a journey, or turning around and going home. 
"I get anxious going to a place I've never been before because I don't like the uncertainty of finding a barrier in my tracks," says Pedesting's CEO Nabeel Ramji, who uses a power wheelchair. "That is exactly why we created Pedesting – to help all pedestrians confidently navigate city sidewalks and buildings."
Pedesting is a new app designed to help pedestrians find the easiest, safest and most accessible routes across the city. In the same way Google Maps makes the experience of getting somewhere in a vehicle easy, Pedesting makes it easier for pedestrians to get around. 
Pedesting features floor plans and routes around Arts Commons, Brookfield Place and the Central Library. More pedesting zones in Calgary will be added in the coming months. 
"We're on a mission to help everyone navigate our beautiful city," says architect and chief creative officer, Erin Shilliday. "Whether you're new to downtown and don't feel comfortable navigating these spaces, or you have a mobility device, Pedesting is a fantastic resource that anyone can use. It's like Google Maps, but with a better focus on pedestrians." 
Pedesting is available for download on Google Play and the Apple Store.
Quick facts
●      There are over 100,000 people in Calgary who have a physical disability 
●      Pedesting is an app designed to help make Calgary more accessible for everyone who uses pedestrian spaces
●      Pedesting currently has three Pedesting zones on the app, but more will be added over the course of the next few months
●      Pedesting provides data to business owners, so that they can understand how to become more accessible without changing their building's infrastructure 
●      Pedesting can also be used to find local events taking place in Calgary's downtown